Rick's Lifestyle Change - Timing
December 15, 2016 at 1:55 pm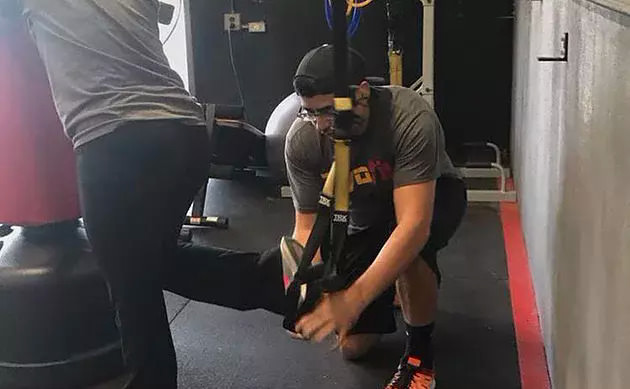 "Follow your passion, be prepared to work hard and sacrifice, and, above all, don't let anyone limit your dreams".
2016 was an eventful year for me full of face-in-palm moments and feelings of Incredible triumph. I experienced the highest of highs and the lowest of lows. One thing I'll walk into 2017 knowing is that through all of it the fire that was ignited in me two years ago when I decided to start my journey is still burning stronger than ever except now my sights are set on a far bigger path.
---
For so long now I've put off moving forward on my plans to take what I've learned from being that 330-pound sloth who refused to get off the couch to someone who lives for the gym and pass it on to those who have struggled and do struggle with the issues. I used timing as an excuse, again and again, telling myself that I don't know enough yet, that nobody would take me seriously because I was still kind of hefty, that I should take more time to master my craft before I put any of it to use. Timing is a funny thing because honestly there is no such thing as good timing, life is going to keep throwing shit at you and if you're waiting around for the perfect time you may never even get started.
There was a span of six months this year where life was throwing shit at me in the form of car accidents, a total of four in six months. Now the first was all me I made a very dumb mistake and paid the price as far as my body was concerned, but everything healed up physically. The second accident, not so serious, with no cost on my body, but my mentality slowly started shifting. Then the third, this accident which came in the form of someone running a red light, came at the most cost because now not only was my body out of commission but my mentality completely shifted to holy shit I'm cursed. The fourth was very minor and meant nothing but a scratch in my paint, the only real damage that was done was what it added on to my already shaky psyche. You see through all of this I was making my decision to leave everything behind and chase my passion of becoming not only just a personal trainer but a life coach who did anything and everything possible to help others achieve what I did and experience the amazing feeling I had when I accomplished everything I had dreamed of. Doubts, of course, crept into the back of my mind, maybe I wasn't meant to do this, maybe this is just the world telling me to back up and rethink this whole thing, maybe just maybe this is just the world telling me that its not the perfect time.
I have been working out at Plyo for almost two years, I have spent more time in that gym than I probably have anywhere else besides my own home, other than my immediate family I'm pretty sure the person I have spent the most time with these past two years is Carlos. Before I even started interning at Plyo I would finish my workouts and just sit and observe other clients, I would observe how they reacted to workouts, how far they were willing to push their body, how often they said they couldn't only to do exactly what they doubted they could a few seconds later, sometimes for hours I would just watch and pick up as much as I could. Eventually, I was offered a spot as an intern and for months not only was I observing but my feet were in the fire and now I was learning hands on. Even with a couple of instances where Carlos has been away and I was given the opportunity to run the gym on my own but I was still timid, unsure of what I actually knew and what I could actually do. I have been an official employee of Plyo for a couple of months now and up until a month ago, I was still asking myself whether the timing was right to start taking on my own clients.
You know when the perfect time actually is? When you decide to stop letting timing actually be an excuse to stop you from doing the things you want to do. We all make time for the things that we really want and I finally decided I was going to stop making excuses and letting the crap life threw at me hold me back, that through it all I was going to make the timing right myself. Last month I took on my first client finally deciding it was time to put everything I have learned to use. I cant really tell you why I doubted myself. All I can tell you is that it was a huge mistake. You won't know what you're capable of or whats actually right for you unless you try no matter what you're going through. I've been lucky enough since then to pick up more clients who trust me to do right by them.
"Follow your passion, be prepared to work hard and sacrifice, and, above all, don't let anyone limit your dreams" The need for good timing isn't going to stop me from following my passion, I am more than prepared and willing to work harder than anyone and sacrifice, but above all I will not let anyone, especially myself, put a limit on my dreams and neither should you.